Money Saving
If you find a broken link in this list, please report it to the webmaster.
MONEY SAVING ON UTILITY BILLS
Too many stick with their broadband provider through thick and thin, overpaying by £100s a year. If that's you, it's likely you can do the double whammy of boosting your package while massively slicing your bills.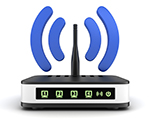 Check your broadband and line rental cost now – people on standard deals typically pay BT £468/yr, TalkTalk £302/yr, Sky £329/yr and Virgin £444/yr. The deals below can bring it down to £198 over a year plus you get a £90 voucher.
What is broadband?
These days broadband is the standard way of connecting to the internet. Originally people used to dial up over their phone connection. Broadband uses a broader range of frequencies and allows more information to be carried than old dial-up connections.
There are two main types of broadband:
Home broadband: This is hard-wired into your house. It's either carried through your phone line (known as ADSL) or by cable. This is what this guide focuses on.
Mobile broadband: This isn't generally as fast or reliable, but as it's via the mobile networks, it's far more flexible. If you're looking for that, see our Mobile Broadband guide, which includes how to find free hotspots.
With home broadband, it's important to understand that while the information is carried via your phone line, you can still use the phone while you're online – and the broadband connection is always on.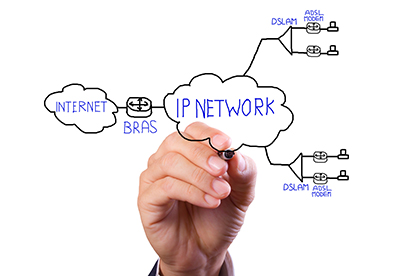 ADSL is an abbreviation of asymmetric digital subscriber line – which just means broadband through a phone line. A splitter, or filter lets you use the line for broadband and telephone calls at the same time. Superfast broadband is supplied over optical fibres, as used for cable TV.
Internet broadband speed is measured in megabits per second (Mb) – that's the speed at which data is transferred over the line.
Switching broadband can save £100s
Many people have a broadband provider they're comfortable with and stick with it for ease. But this becomes a licence for providers to print money, as older packages are more expensive and tend to allow lower downloads at slower speeds.
Assuming you already have home broadband (if not, read on to choose), it's crucial to work out what you're paying and the service you're getting. However...
Never just look at your broadband cost. Always look at your phone line rental too. Often, the services are interlinked, so cheap broadband can mean a costly phone service.
Here are some typical costs the big networks are charging for long-standing deals. By contrast, using the best deals in this guide, you can often get broadband and home phone for around £17 a month.
Typical standard broadband and line rental costs
| PROVIDER | STANDARD MONTHLY BROADBAND COST | STANDARD MONTHLY LINE RENTAL COST | COST PER YEAR FOR BOTH |
| --- | --- | --- | --- |
| BT | £20 | £18.99 | £468 |
| Sky | £10 | £17.40 | £329 |
| TalkTalk | £7.50 | £17.70 | £302 |
| Virgin (fibre) | £19 | £17.99 | £444 |
Switching broadband used to be a little tricky, but new rules introduced by Ofcom in June 2015 have simplified the process for many. See the Ofcom implementing easier telecoms switching MSE news story for more details – we explain how it works in the questions below.
Quick questions
Can I ever leave my contract early without penalty?
How long does it take to switch provider?
What do I actually need to do to switch?
What if I have problems setting up my new broadband?
How do I find out what customer service is like?
What if the broadband isn't in my area?
Six things you need to know to slash broadband costs
If you only read six things about broadband before you switch, read these.
Faster advertised speed doesn't mean faster broadband
Remember advertised speeds are just that – "advertised". A provider only needs a paltry 10% of customers to get a certain speed before it can list it.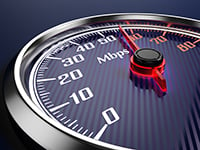 While providers may tell you their service is "up to" 17Mb, many won't get near that speed. The actual speed you get depends on a number of factors:
How close your home is to the phone exchange.
The condition of the lines and wiring.
The number of people using the same broadband service in your area (the contention ratio).
Providers slowing speeds during busy hours or if you're a really heavy downloader (traffic shaping).
The number of people/devices trying to get online in your house.
What you're currently doing and programs running in the background, such as your browser streaming a movie clip.
Many things help to boost your speed for free without switching. Try using a shorter cable from socket to router, cheap household signal boosters and plugging in instead of using Wi-Fi for big downloads. There's a full checklist of tips and tricks in Broadband Speed Boosting.
Check your broadband speed – you have rights, if it's slow
Our 60-second guide on Broadband Speeds goes through the four steps to find out if your broadband's speed is fully up to scratch, and what you can do if it's not. Briefly...
You should always call up and try to resolve things with your provider directly. If this doesn't work, go through its official complaints procedure – the free complaints handling tool Resolver can help you with your complaint.
Aim for unlimited data or it'll cost you
Our data use has rocketed. Catch-up TV and movie streaming hoover it up, and since some packages have download limits, this can be costly. If you just use the net for light browsing, emails and the odd YouTube video, you'll probably be fine with a limited 10GB package.
Yet web watchers, beware. Watching an episode of Game of Thrones in HD's roughly 1GB, equivalent to looking at thousands of web pages. If you've got a 10GB limit, it isn't long before it's all used up and you're paying extra charges. With BT you pay £1.50/GB when you go over the limit.
So check your bill now for penalty charges. If your download limit isn't enough, switch to the super-cheap versions below. These days the vast majority of the cheapest deals are unlimited anyway.
To track how much data you're downloading, get a free bandwidth monitor – tryRokario, Netmeter and TbbMeter.
Do you need fibre-optic?
Superfast broadband allows much faster speed with greater consistency. While phone line speeds rarely match the 'up to' figures firms boast of, fibre gets closer.
More of us are using more data online and because of this we need more speed. For simple web browsing and email, common 16Mb connections will do the job. But if you use it for lots of movie downloads, streaming videos, online gaming, or if everyone at home wants to connect at once, you will need superfast.
Fibre broadband is still being rolled out across the UK. As a general rule, most big cities and towns have access to superfast broadband from a few different providers. Other areas (especially rural districts) may not have access to fibre broadband at all.
To see if you can get superfast, see superfast best buys below. Alternatively, enter your postcode on Broadbandchoices* and click the fibre broadband tab (if there's no tab, it means you can't get it).
Should you get a broadband and line rental bundle?
Never just look at your broadband cost in isolation. Always factor in your phone line rental as well – even if you get them separately. Many cheap broadband deals require you to take costly line rental, but only advertise the sexy broadband price in the headline. The deal to pick depends on which category you fall into:
Only got landline for broadband? Unless you've got Virgin cable, you need a landline for broadband at home. Our poll of 25,000+ people showed 73% of under 65's don't have a landline or rarely use it.
Millions feel forced to keep it just for broadband. If so, cut the cost and just go for a cheap bundle. Alternatively, you don't need line rental for Virgin superfast – see Cheapest broadband without a landline below.
Still use your landline to make calls? If this is you, you'll need to factor in call costs when choosing line rental.
But you can make massive savings on call costs to landlines, mobiles and overseas without changing phone line by using specialist access numbers. See Cheap Home Phones for a full how-to and best buys.
Check if you're under contract and haggle your bill down or your speed or package up
If you signed up to broadband in the last 18 months, or longer in rare cases, first check if you're still in your contract period. If so, double-check that leaving doesn't breach your contract before switching. Exit penalties may kibosh savings. If you're planning to move home soon, check if your new contract's portable, or consider a no-contract deal.
Before you ditch your current provider, remember broadband's a mature market and companies are frantic to keep hold of customers, so...
Just call up, threaten to leave and your existing company will often offer kick-butt discounts.
Say you want to move to a new provider and it'll automatically lead to a 'why are you leaving?' chat. It should put you through to what we call 'disconnections' but they call 'customer retentions' – these operators have serious discount-giving power.
If you're still in contract and it isn't worth leaving, check what speed you're actually getting and compare it to the advertised speed you're paying for. See our Boost Broadband Speed two minute check. If you're getting less than advertised ring your provider and ask for a better package, such as fibre, a discount or another concession.
We polled 4,000 MoneySavers to see where hagglers had most success. Companies where hagglers revealed over 76% success rates included TalkTalk, Sky and Virgin. See full results.
For more tips and the top companies to haggle with, see Haggle With Call Centres.
Best buy broadband deals
Below are our top picks. These are mainly price-focused, and these deals are only for those that live in the providers' network areas (typically about 90% of the population). If your local BT exchange hasn't been opened up to rival firms ("unbundled"), you'll pay more.
Best buys : Unlimited broadband & line rental
Broadband usually requires a landline, and rather than getting your broadband and line rental from different companies, at the moment it's possible to get them as a 'bundle' for £198 for a year plus you get a £90 voucher. All of the cheapest deals listed below also offer unlimited broadband, so you don't have to worry about going over your download limit.
It's also worth checking cashback sites as sometimes you can get more cashback on top of the below offers. Check deals are the same and be aware that if the site doesn't track properly you may miss out on the cashback.
Available to

: 97% of UK
Speed: Up to 17Mb
Download limit: Unlimited
Traffic shaping? No
Contract length: 12 months
Deal requires line rental? Yes
Inclusive calls? No
New line installation: £25
Since it was hit by a high-profile hack in October, TalkTalk's been doing its best to gain new customers with some attractive deals, though whether people will trust it after the brand damage is yet to be seen. In our last customer service poll 47% scored it 'poor' - it's worth thinking about before you make your choice.
Until Thu 28 July, newbies to TalkTalk's Simply Broadband* can get unlimited 'free' up-to-17Mb broadband when they take TalkTalk's line rental on a 12-month contract. This is how it works:
Sign up now. Go via this specific link*.
Choose to pay for line rent upfront. If you can afford to it's cheapest to pay £191.16 for a year upfront (equiv £15.93/mth), otherwise it's £17.70/mth. Once you have a login to your online account you can select Value Line Rental to pay upfront.
Unlimited broadband's 'free' for the entire 12mth contract. After this it'll rise to £7.50/mth – so diarise to switch at this time. You get a 'free' compulsory router, though you must pay £6.75 for p&p.
£90 Love2Shop voucher. Once the broadband's live, the voucher will be posted to you automatically within 28 days. Love2Shop can be used at Argos, Boots, Debenhams, Superdrug etc - see the full Love2Shop list for all retailers. You won't get the voucher if you need a new line installed or you're not switching from Sky, Plusnet or BT. Read more on how to ENSURE you get the voucher.
Add up one year's upfront line rent and router p&p and it's £197.91 for 12 months, equivalent to £16.49/mth. If you're paying line rental monthly it's £219.15 for the year or £18.26/mth. Plus you'll get the £90 Love2Shop voucher.
If you'd spend that at one of the shops anyway, factor it in and it's effectively £107.91 over 12mths, equiv to £8.99/mth (paid monthly it's £129.15, equiv to £10.76/mth).
- What about calls? No calls are included but you can get anytime calls to UK landlines and mobiles for £5/mth for 12 months. You'll be charged £7.50 per month unless you cancel before the end of your contract. Calls over 60 mins are charged so hang up and call back. See call costs for full info.
- Need a new line? If you don't have a line or only have a cable one (or in a few cases other lines), installation is £25. However you won't be eligible for the Love2Shop voucher.
Available to

: 99% of UK
Speed: Up to 17Mb
Download limit: Unlimited
Traffic shaping? No
Contract length: 12 months
Deal requires line rental? Yes
Inclusive calls? Weekend
New line installation: £30
Until Thu 28 July, BT newbies (those who don't currently have broadband with it) can get its Unlimited Broadband + Weekend Calls* package on a 12-month contract. It's the second offer down.
Here's how you get it:
Sign up now. Go via this Cable.co.uk link*.
Choose to pay line rent upfront if you can afford to. It's cheapest if you pay the £205.08 year's line rent upfront (equiv £17.09/mth), if not it's £18.99 monthly, you choose which option during the application.
Unlimited broadband's £7.50 for 12 months. You get a 'free' BT Hub router, though you pay £7.95 p&p. If you stay after the contract ends the broadband jumps to £20/mth.
£100 Mastercard BUT you must claim it. Frustratingly you need to register for the Mastercard via this online form once the broadband's activated, it's then posted within 45 days.
£50 cashback BUT you must claim it. You'll need to register via this online form for the cashback once the broadband's activated. The cheque is then posted within 45 days. Make a diary note with a copy of these links – BT WON'T remind you. Seefull details of how to claim.
The total cost including broadband, line rental upfront and router is £303.03 for the year, equivalent to £25.25/mth or £325.83 if you pay line rent monthly – equivalent to £27.15/mth.
If you factor in the £100 Mastercard and £50 cashback, the total cost is £153.03 for the year, equivalent to £12.75/mth or £175.83 if you pay line rent monthly – equiv £14.65/mth.
- What about calls? Weekend calls to UK landlines are included. If you want extra calls, add-ons start from £3.50/month. Full info on call charges below.
- No line/switching from cable? Installation's £30.
- Want BT Sport? Lite's included – the full shebang is £6/mth or free with BT TV.
Available to: 90% of the UK
Speed: Up to 17Mb
Download limit: Unlimited
Traffic shaping? Yes
Contract length: 18 months
Deal requires line rental? Yes
Inclusive calls? No
New line installation: £49.99
Until Tue 26 July, new Plusnet customers, or those who've not been with it in the last month can get an 18-mth contract with BT-owned Plusnet* which includes line rental, unlimited downloads with up-to-17Mb speed broadband.
It's a strong performer in our customer service poll - 62% rate it 'great', only 15% 'poor'. The deal's available to 90% of the UK based on postcode (you're told when applying), but you can't get it if you're already a Plusnet customer (or left in the last month). Here's how it works...
Sign up. Use this specific link*.
Choose to pay line rent upfront if you can afford to. It's cheapest if you pay the £185.88 year's line rent upfront, it's then £17.99/mth for the remaining six months (equiv £16.32/mth). If not it's 16.99/mth until 1 September, £17.99/mth after. You choose which option during the application.
Broadband's 'free' for the 18-month contract. If you stay after the contract it's £9.99 or £17.49/mth depending where you live so diarise to switch at this point.
If you pay a year's line rent upfront, add on six months line rent at £17.99/mth it's £293.82 over 18 months (equiv £16.32/mth). Pay line rent monthly and it's £16.99/mth (£17.99 from September 1). If you factor in one month at £16.99 and the remaining 11 months at £17.99 it's £322.82 for the 18 months (equiv £17.93/mth).
- What about calls? No calls are included – calls to other UK phones are mostly slightly cheaper than BT (a bit more than BT from 1 Sept, see Plusnet charges).
- No line/switching from cable (or in a few cases, Sky cust)? Installation's £49.99. You'll know before committing.
- Need a router? An optional 'free' one is available, though it charges £6.99 for package & posting. It's worth checking whether your router is compatible and whether you need to unblock it first. Read Plusnet's FAQ on this.